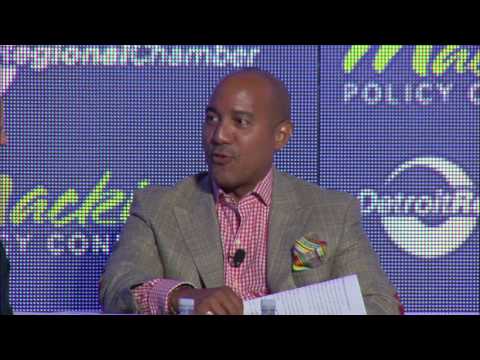 Quicken Loans founder Dan Gilbert believes Michigan's future is predicated on a conscious shift in organizational culture and a willingness from others to "think big" and take risks.
"The world doesn't live on a spreadsheet," Gilbert said during a one-one-one conversation with Conference Chair Dennis Archer Jr. "We need people in the city to think big."
"If we can get it right, if people start believing … Detroit can become a very special place," Gilbert added.
In terms of creating jobs and opportunity, Gilbert said a concentrated effort is needed to attract young tech talent from places like New York and San Francisco in order to feed the pipeline for Michigan businesses in an era of mobility and the Internet of Things (IoT).
"I tell my team all the time that you can't invest in enough tech talent," he said. "We have to get them here now."
Six years after locating his company to downtown Detroit, Gilbert said the injection of youth and talent has been key to Detroit's ongoing revitalization.
"There isn't anywhere in the country that doesn't have a young person seduced by Detroit—whether they come from Harvard, or California, or New York, or Chicago," Gilbert said. "They believe that they can have an impact on the city from Day 1. That is a big selling point."
"If you look at this generation, they want to be located in an urban corridor. If you don't have young people interested in being a part of what's going in Detroit, you will have an Old West-type town. That's what sustains (the city)," Gilbert added.
Responding to a question about his decision to double down on the city at a time when other businesses were leaving, the Detroit native said investing in his hometown was a no-brainer.
"I didn't like going around the country and seeing people's faces when I told them I was from Detroit," he said, adding that he never expected Quicken's exponential growth in the region.
The company now employs over 15,000 people downtown, which has helped breathe new life in many of the city's restaurants and businesses. His company, Bedrock Detroit, also owns more than 80 buildings and retail sites downtown.
Addressing questions on recent updates to Campus Martius Park and other areas, Gilbert said he learned a long time ago that investing in people pays off in the long-run.
"People in cities want to be entertained if you want to keep them there. It doesn't take a lot to come up with something new and exciting," he said. "We're brainstorming all the time."
"Nothing excites me more than looking out at Campus Martius and seeing the diversity of people, young and old, enjoying the city," he added.