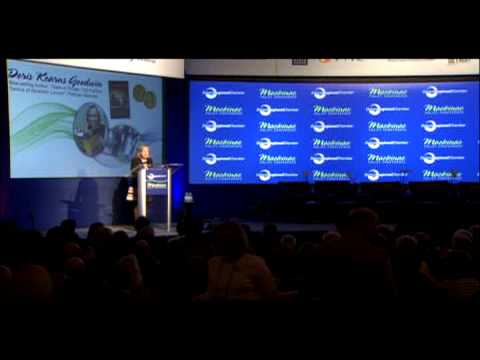 Citing the courage and bold leadership of Presidents Abraham Lincoln, Lyndon Johnson and Franklin Roosevelt in the face of historic challenges, Doris Kearns Goodwin, best-selling author of "Team of Rivals" called for more cooperation and pragmatic leaders to move Michigan forward.
In her keynote address, Goodwin drew parallels to FDR's ability to unite business and government in one common goal to defeat Nazi Germany, and Johnson's innovation in the face of opposition to pass the Civil Rights Act to the "out of the box" approach Michigan's leaders had to solving Detroit's bankruptcy crisis.
Goodwin said partnership requires compromise and a willingness to circumvent ideology for more long-term and sustainable solutions. The Pulitzer Prize-winning author said effective leaders, such as Detroit Mayor Mike Duggan, former Detroit emergency manager Kevyn Orr and Gov. Rick Snyder inspired common action in the face of the bankruptcy crisis but said a lack of cohesion and community revitalization could threaten Michigan's progress.
"In the absence of that daily crisis, how do you keep (Michigan's) momentum going because the problems still exist" she asked.
Click here to read an article about Goodwin in the Detroiter magazine.