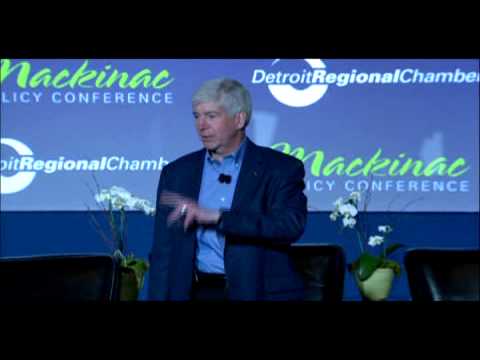 Touting Michigan's recent unemployment rate, the lowest since he took office, Gov. Rick Snyder told attendees at the 2015 Mackinac Policy Conference that growing and retaining Michigan's number one asset: its talent, is a top priority to keep the state moving forward. The Conference's three pillars of talent, urban revitalization and cohesion helped frame the Governor's overall opening message.
"There is no doubt in my mind that Michigan is home to the most talented people in the nation. Our challenge is to keep that talent here," Snyder said.
A critical component of attracting talent, Snyder said, requires a cohesive effort from state leaders to build up communities from Detroit to Grand Rapids.
"For the first time in decades, people are moving into Detroit and our other cities, not out of them. We want to make sure city neighborhoods and communities of all shapes and sizes all across our state have that same growth and energy," Snyder said.
In addition, Snyder said creating positive results for Michigan will be greater when organizations partner together rather than competing to solve a common problem. Click here to read an editorial from Gov. Snyder on Michigan's talented future in the 2015 Mackinac edition of the Detroiter magazine.