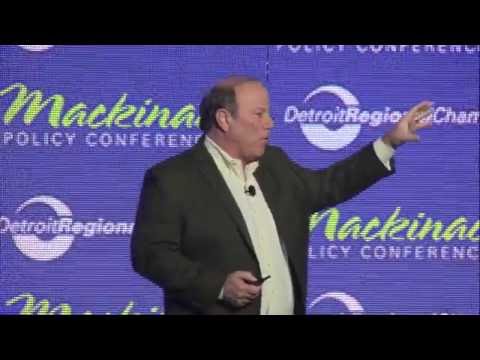 Detroit Mayor Mike Duggan took Michigan's Center Stage to share his vision for the city's future, addressing the question: How do we rebuild Detroit into a vibrant city that provides opportunity to everyone?
Displaying powerful before-and-after images of previously blighted homes and properties, as well as new developments driving jobs and investment in the city's neighborhoods, Duggan outlined seven steps his administration is taking to create a more prosperous, yet equitable Detroit:
Transform the physical landscape through blight removal
Develop advantages that are uniquely Detroit
Attract businesses and jobs at all skill levels
Build a culture of entrepreneurism
Develop housing options for all
Provide opportunities for our young
Build a first-class school system.
Duggan also acknowledged the Detroit Regional Chamber for its role in the management and implementation of the Detroit Promise, a scholarship program based on the Detroit Scholarship Fund that guarantees a tuition-free pathway to an associate degree for any student who lives in the city and graduates from a Detroit school. Duggan said the scholarship provides a viable pathway to higher education for some who may have not been able to afford it.
During the keynote, he told a story about a mother of four who had just learned about the scholarship.
"When she saw the announcement she said, 'I have four children. I didn't know how I was going to send them to school. But now, because I'm in Detroit, I know at least two years of their college is paid for. I love this city,' And it was the Chamber that got us started," Duggan said, acknowledging the Chamber's administering the DSF on behalf of Gov. Rick Snyder and the Michigan Education Excellence Foundation (MEEF) since 2013.
Discussing the challenges facing Detroit's school system, Duggan made the case for the Detroit Education Commission (DEC), an entity that, if approved by the Michigan Legislature, would be responsible for ensuring standards and quality across the city's public and charter schools.
Duggan thanked the Chamber and Board member John Rakolta Jr. for supporting the DEC, recalling the advice Rakolta told him when asked if he had any regrets for passionately speaking out on behalf of the city's schoolchildren.
"He said, 'Mike, I don't see them as Detroit schoolchildren. I see them as my children. When they are your children, there's no limit to what you will do for them.'"
Duggan continued, "The key is, in your heart, to see them as your children. And if you do, don't stay silent."