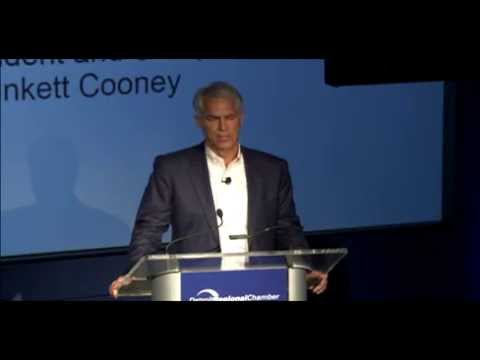 2014 Conference Chair Henry Cooney took the stage today to report on the Chamber's completed 2014 Mackinac Policy Conference "To-Do" list and its accomplishments, including repealing the Personal Property Tax, being "loud and proud" about Detroit, helping launch Mayor Duggan's Grow Detroit Young Talent Program and celebrating the region's "disagreeables. "
One of the Chamber's proudest achievements was the passage of Proposal 1, repealing Michigan's burdensome Personal Property Tax. Aiding in that effort, the Chamber launched an aggressive marketing campaign ahead of the August election and was a key voice for business in the media.
After swiftly exiting bankruptcy, the Chamber continues to be "loud and proud" about Detroit's future. Whether organizing foreign delegations, appearing in the media or hosting the second annual Detroit Policy Conference, the Chamber is working with its public and private partners to position the city and region as the place to do business.
At the 2014 Conference, Mayor Duggan announced the Grow Detroit's Young Talent program, a summer jobs initiative aimed at connecting the city's youth with educational employment opportunities. The Chamber served as a key partner, promoting the program to Detroit's business community. A year later, it has already met and exceeded its goal of securing 5,000 jobs.
The Chamber also answered 2014 Conference keynote Malcolm Gladwell's call to embrace what he called "disagrreables," those who have the courage to ignore naysayers, bring an idea to fruition and create transformative change. The September edition of the Detroiter magazine showcased the business leaders and entrepreneurs who are driving innovation and reshaping Southeast Michigan.
The results of the Chamber's 2014 "To-Do" list demonstrate the impact the Mackinac Policy Conference and the collective power of participants to contribute directly to the state's growth.
2013 "To-do" List Update
Following New Orleans Mayor Mitch Landrieu's keynote address at the 2014 Mackinac Policy Conference, the Chamber led a delegation from Detroit to New Orleans in October to learn lessons about education reform and neighborhood revitalization following Hurricane Katrina. The trip completed an item from the 2013 "To-Do" list.