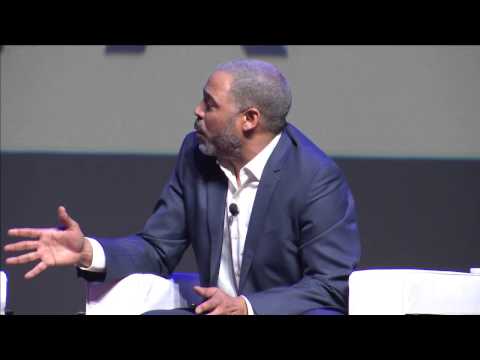 The 2015 Detroit Policy Conference session "Uniting Two Detroits" brought forward a candid discussion about race and economic opportunity in Detroit's resurgence, capping off a day of dialogue focused on Detroit's next steps. The Conference, held on Feb. 26 at MotorCity Casino Hotel, featured an audience of nearly 800 attendees.
The panel, sponsored by Delta Air Lines, focused on issues such as perceptions about diversifying the clientele in downtown Detroit, educating young African American residents about business startup opportunities and removing barriers to minority entrepreneurs, such as lack of access to capital.
The panel featured Dennis Archer Jr., president and CEO of Ignition Media Group and president of Archer Corporate Services; Cindy Pasky, president and CEO of Strategic Staffing Solutions; Andre Spivey, Detroit city councilman for District 4; and Eric Williams, director of the Program for Entrepreneurship and Business Law at Wayne State University. The panel was moderated by Nolan Finley, editorial page editor for The Detroit News, and Devin Scillian, anchor for WDIV-TV 4, which also webcast the session.
Finley opened the discussion by addressing the feedback he received from editorials in The Detroit News highlighting the two narratives emerging in Detroit's post-bankruptcy era — one of a resurgent downtown juxtaposed with struggling neighborhoods.
"For two years I've been puzzled over the absence of blacks in the hip new downtown nightspots," Finley said. "I've come to expect that wherever I go, everyone will be younger than me, but what I don't expect in a city that is 83 percent black, is to go to a crowded Detroit establishment and nearly everyone be as white as me."
Drawing on his experience at Wayne State University, Williams said that many African Americans do not have the same exposure to business investment and said families should encourage children at a young age to explore entrepreneurialism as a viable career. Spivey said as a member of the city council, he interacts frequently with minority business owners but said they are not often the focus of the mainstream media's coverage of Detroit's comeback.
While he agreed about the lack of diversity in downtown Detroit, Archer said he believes many African Americans and other minorities chose to move to the suburbs in recent years and did not come back. One solution, according to Pasky, is for Detroit businesses to make a determined effort to diversify their workforce. She also said internships are a positive way for businesses to uncover hidden talent and offer youths a chance to explore future career pathways.