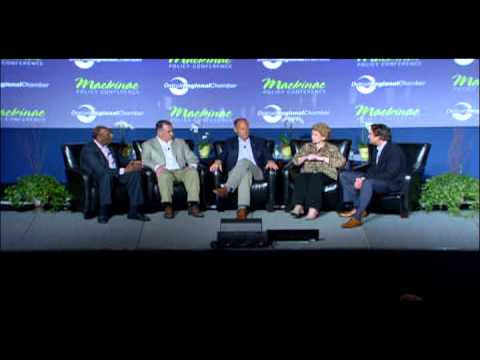 Building on the Mackinac Policy Conference's pillar of community revitalization, Walter Robb, co-CEO of Whole Foods Market, emphasized the importance of businesses investing in the communities they serve. Pointing to the success of Whole Foods' location in Midtown Detroit, Robb said the company never lost sight of its overall motto of "doing well, by doing good."
Whether through collaborating with supplier partners, community organizations and local leaders to bring more food choices to residents, or investing in local food startup companies in the region, Robb said he believes the key to Whole Foods' success has been investing in all stakeholders, not just investors. The company offers more than 1,200 Made in Michigan products on its shelves and offers nutrition and community garden programs to help decrease what Robb called "the food disparity" in Detroit.
A panel of food experts led by Robb that included Craig Edsill, president of Clemens Food Group; U.S. Sen. Debbie Stabenow (D-Michigan), and Dave Zilko, vice chairman of Garden Fresh Gourmet, outlined the importance of Michigan's food economy as a significant contributor to the state's overall economic comeback.
Stabenow said the food economy continues to diversify, second only to California, and represents a $100 billion industry.