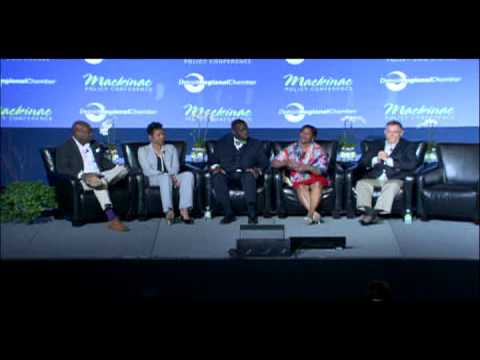 Michigan and Detroit have a responsibility to expand participation and grow opportunity for people of all backgrounds in order to move the state forward. That was the key message a panel of civic, government and business leaders, moderated by Stephen Henderson, editorial page editor of the Detroit Free Press, laid out in the session titled "Race, Opportunity and the Art of Cohesion" on Friday.
La June Montgomery Tabron, president and CEO of the W.K. Kellogg Foundation, said there is a business case for bridging the gap of racial equality in the state. Tabron highlighted that reducing the income gap would result in an additional $30 billion in gross domestic product for Michigan and an additional $900 million in tax revenue for the city of Detroit.
Tabron and Frank Venegas Jr., chairman and CEO of the Ideal Group Inc. and Detroit Regional Chamber Board member, called for more area businesses in the Detroit region to make a conscious effort to hire teens and adults in poorer neighborhoods.
"Disengaged youth are going to become a rising problem here and across the nation if we don't do anything," Tabron said.
Venegas challenged business leaders to commit to hiring one to five minorities through jobs or internships in the next year.
One important factor in reducing societal tensions requires a compassionate civic-minded police department, according to U. Renee Hall, deputy police chief for the city of Detroit.
Hall said in some of the city's more impoverished neighborhoods, the department works with gang members and others through community outreach programs that teach employment and quality of life skills. She also said it is important for the department to remain transparent and reflect the racial makeup of the city.
Calling for action off the island, Detroit City Councilman Andre Spivey said infusing capital into businesses outside of Detroit's downtown and midtown that employ minorities is also key to ensuring the success of the city as a whole.
"Moving Detroit forward is about simple economics," he said. "We are still a very polarized city and region. We have to do more than talk about it when we leave this Conference."