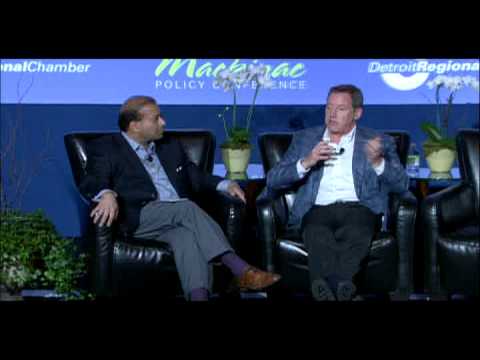 Ethics and innovation are important factors that affect a company's reputation and success, according to Bill Ford, executive chairman of Ford Motor Co. Ford is at the forefront of intelligent mobility technology, leveraging its past to build its future. During a one-on-one conversation with Detroit Regional Chamber President Sandy Baruah, Ford said he takes pride in leading a company where "making lives better" drives the automaker's overarching ethos — a fit with the Conference's pillar of cohesion.
Responding to a question on how Ford has been able to translate the values of his great-grandfather to keep the automaker competitive in the 21st century, Ford said it comes down to treating employees with respect, describing the company as "a big family."
Ford Motor Co,'s ability to embrace the past while looking to the future is unrivaled, a lesson that others can learn from the automaker.
"You can't create the future if you don't know who you are," Ford said. "I've seen a lot of these younger companies don't have a culture and the second they hear of the next best thing, people pack up and go. A company needs stability and a reason to work beyond receiving a paycheck."
Translating those lessons for Michigan's success, Ford said Michiganders should remember the state's core values of hard work and manufacturing talent.
In discussing the opportunities and challenges for Michigan as a leader in next-generation mobility, Ford said it is important to understand the needs of transportation customers living in major metropolitan areas versus suburban communities.
"There is no one silver bullet but automakers can't shy away from the increased demand for next-generation mobility," he said. "All forms of transportation will have to be linked together on a network and talking to each other. It's the ultimate opportunity to provide something that customers want and need."
The response sparked a question from Baruah on Detroit's talent race with Silicon Valley.
"Are we on a race? The answer is No," Ford said. "Would I like to get more startup companies here, absolutely, but we're off to a good start. Detroit and Michigan is the place where activity is happening."