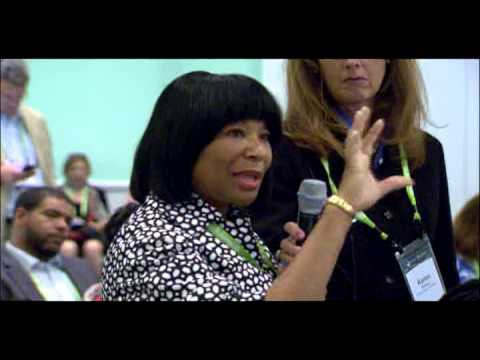 Creating an inclusive city and ensuring a united Detroit emerges in the post-bankruptcy era will take collaboration from a wide variety of community, business, political and philanthropic groups working together. That concept and the theme of taking intentional action in regard to inclusion, diversity and opportunity shaped the discussion at an interactive town hall discussion where Conference attendees shared impassioned views on a critical issue facing the city.
Matt Elliott, Michigan market president for Bank of America, which sponsored the session, shared how important neighborhoods are to the growth happening in the city. Bank of America is working with the Detroit Land Bank Authority and other organizations to offer incentives to people rehabilitating and acquiring homes in the neighborhoods through the Building Detroit program.
The conversation, led by Nolan Finley, editorial page editor of The Detroit News, and Devin Scillian, anchor of WDIV-TV 4, followed with input from leaders in the Detroit business community, picking up the dialogue from the 2015 Detroit Policy Conference panel on "Uniting Two Detroits."
"It's about having hard conversations about hard issues," 2015 Conference Chair Mark Davidoff said, sharing how Deloitte is working to solve issues of diversity and inclusion working with Cornerstone Schools in Detroit, with a five-year pilot program that will provide students enhanced training in math, accounting, problem-solving, management and business ethics.
Many attendees advocated for the conversations to continue off the island, but said it is up to the leadership of Detroit to be diligent in making inclusion a priority.
"Our urban areas need to be areas of opportunity not just for some, but for everyone," Detroit Regional Chamber President Sandy Baruah said.
"There are segments of the population where the American Dream is a foreign concept."
Thriving urban growth is a global trend, and Detroit needs to be prepared to be a part of that paradigm shift with an intentional look at the way that diversity contributes to those opportunities, Baruah said.
Dennis Archer Jr., president and CEO of Ignition Media Group, and 2016 Mackinac Policy Conference Chair, reiterated his comments made at the Detroit Policy Conference that minorities need to be encouraged to take risks. It is important to embolden a cultural shift that inspires entrepreneurship because diverse ownership will encourage diverse clientele, he said.
The conversation stimulated audience members to contribute to a tough subject that can serve as the basis for a cohesive strategy for inclusion and opportunity in Detroit.